Esther Valentine Music
|
home




"The voice of an angel with the sound of the street"
-- Neal Bond, Indie E-Zine
Biography: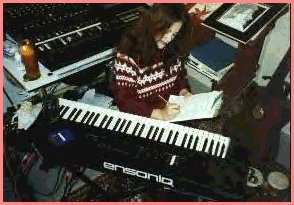 Growing up with an English mother and Brooklynese father (dare we say wry on rye), it's
no wonder the music and vocalizations of Esther Valentine are eclectic and refreshingly
original. With her three-octave range, distinctive voice and songs, she can sound sweet then
smoky (she's been described as the voice of an angel with the sound of the street),
"troubadorian" with a hint of Coney Island Blues, banshee-like, cantor-like, but unlike
anything you've heard before - though somehow familiar.
Her latest release, the searching and soulful "Missing Mantra" illustrates this versatility
and range beautifully. Ms. Valentine collaborated with producers, arrangers, writers and
performers, many of whom are friends, and the outcome is an enchanting, thought-provoking
& unique blend of songs sure to keep the curiosity piqued, the heart open & the body moving.
For the title cut, "Missing Mantra," Esther collaborated with Tushar & Suchita Parte,
a talented couple from Mumbai (Bombay) who hail from a sort of musical Indian aristocracy,
though they are down to earth and really quite humorous. Esther and the Parte's developed
a mutual admiration via cyberspace and decided to meet face to face (the Parte's traveled to
America). Esther wrote, performed and produced the American tracks for "Missing Mantra,
while Tushar produced the Indian arrangements in Mumbai using an array of lush, Indian
instruments and sounds including sitar, tablahs, swarmandal, bansuri and Suchita's
beautifulvoice singing ragas and shlokas. He also played lap & electric guitar (he's a
masterful guitar player who also loves bluegrass!) Paul Livingstone, a noted guitar/sitar
player in L.A., also added some signature sitar parts in L.A. (See full credits at bottom of
"Songs & Lyrics" page.)
"Maybe In Another Life" was produced and arranged with Derek Nakamoto, another
fine producer/musician, formerly a member of Hiroshima, and who has also worked with
Michael Bolton, Michael Jackson, Holly Near, etc. He played keyboards, and blended
classical strings/instrumentation with Asian sounds, making this yet another captivating and
memorable song. Pedro Eustache, an amazing flute/woodwind player known for his work
with Yanni, "The Passion," etc. played the haunting bansuri flute beautifully and soulfully.
Todd Herzog, a talented singer/songwriter/producer in his own right, sang on the duet
version (reminiscent of Josh Groban).
"
Novgorod
" is a cyber-sea miracle/masterpiece. Esther and the hot and spicy Norwegian
band"Gazpacho" also discovered each other via the web, joined "the mutual admiration
society," then set to work on this lush, moving, and rocking homage to the classical Russian
composer, Rimsky-Korsakov (which was originally released on their compelling CD, "Bravo.")
This collaboration, which includes writing, production and performance, was accomplished
all via Internet! Numerous music and text files were fervently e-mailed, as they poetized back
and forth, basing the lyric on the myth of the sea siren and her unsuspecting prey, a lonely
musician banished to the edge of the world. This track is electrifying & emotionally charged.
(Visit Gazpachoworld.com and CDBaby for Gazpacho's impressive catalog)
"False Profit" has also been getting rave reviews. Ms. Valentine teamed up with Gregg
Montante, a fine producer and powerful guitar player who has scored and played on
numerous films (U.S.A. channel, etc.), and who has completed numerous CD's of his own.
He added a somewhat jazzy Bond/Krall/Raitt feel and ironically, a smokiness to this tune
about trying to kick the tobacco habit.
"Give Me A Reason" was written by Esther Valentine and David Barkley, an accomplished
and accredited composer/orchestrator who seems to have mastered the art of combining
mood and ambience with light and excitement. The result is a tender yet powerful
Celtic/Americana original.
Having grown up around a bit of English music hall (Esther's mother was from Manchester),
and "mused" by David Collins* (rhythm guitar on "…Mantra" and several others) to cover
some of the haunting ballads of yesteryear, Esther also includes a rendition of the 1918 song,
"I'm Always Chasing Rainbows," which she produced, performed & arranged herself.
It is a beautiful and poignant song, originally adapted from Chopin's Fantaste Impromptu.
This arrangement was also partly inspired by Eva Cassidy. (*David is Esther's husband :o)
"Peace, Now" is an impromptu jam with the Parte's when they were visiting from Mumbai.
It was originally a response to 9/11. Esther adapted the poem into a song a few years later
then added her unique, signature harmonies.
"Angel Song" is a promo/bonus track that was recorded a few years previous,
(produced by Esther and John Boeghold), which has had quite an impact on her listeners.
"Missing Mantra" is now available on "
CDBaby
," accompanied by "Can't Watch
Yourself Dance," (offered as a 2-CD set featuring "MM," the new release, for only $16.95),
practically two for one!
Credits:
"Missing Mantra" (title song):
Western Unit:
Esther Valentine - songstress, lead voc's, piano, strings, finger cymbals, production., arr.
David Collins - acoustic guitar, add. arr. Idea Paul Livingstone - sitar
Ron Wikso - drums Norm Sanchez - bass Gregg Wong - end chant
Eastern (Bombay) Unit:
Tushar Parte - guitars (lap, electric), bckgrnd voc's, production, arr.
Suchita Parte - Featured Voc's (ragas/shlokas), background voc's, tanpura
Dastagir Khan - sitar & swarmandal Ashwin Kumar - Bansuri flute
Vinayak - tablah, pakhawaz
Engineering: Esther Valentine/Hidden Star Studios, Init. Mix/Record
Yukiko Puram - record, preliminary mix
Chinmay/Swarlata Studios - record & mix Indian instruments
"Maybe, In Another Life"
Esther Valentine - writer, vocalist, co-arranger, co-producer
Derek Nakamoto - keyboards, strings, co-arranger, co-producer
Pedro Eustache - Bansuri flute
Todd Herzog - male vocals on duet version, (#9 reprise)
Engineering - Derek Nakamoto, Steve Durkee, EV
"Novgorod"
Written & performed by
Gazpacho
& Esther Valentine
Esther Valentine - vocals/vocal production
Gazpacho members: Thomas Anderson - keyboards/arr/prod
Jon Vilbo - guitar/prod Jan Olme - vocals
Roy Funner - bass + supporting ensemble
"False Profit"
Written by Esther Valentine
Produced/arr. by Gregg Montante & E. Valentine
Guitar/Keyboards by G. Montante
Add. keyboards by EV
"I'm Always Chasing Rainbows"
Arr., Vocals & Instrumentation (2005) by Esther Valentine
Produced/Recorded by EV
Adapted from Chopin's Fantasie Impromptu in C# minor
Lyrics - Joseph McCarthy Music - Harry Carroll (1918 PD)
"Give Me A Reason"
Written by Esther Valentine & David Barkley
Vocals/vocal production - EV
Keyboards/arr./production - David Barkley
Guitar - Craig Stull
"Peace Now"
Words, melody & vocals by Esther Valentine
Percussion by Tushar & Suchita Parte
Produed/recorded by EV
"Angel Song" - promo track
Written by Esther Valentine
Vocals/piano - EV
Keyboards, prod. - J. Boeghold
Bruce Hanofin - record, final mix, production ("MM" & "Maybe, In Another Life")
Paul Tavenner, Big City Recording/Man Alive - mastering
Shannon Christensen - Printing of Booklet and CD covers
Dance and be joyful is the essence of Esther Valentine's 1st CD, entitled "Can't Watch
Yourself Dance." Though you may see a storm cloud overhead, or find yourself
pressed with the usual rigors of being mortal, why not grab the brass ring of the day,
in spite of it all? If that's not enough, and you simply must have more, "Anthology"
is also a favorite (extended Esther), and "Angel Song" is another uplifting compilation
available on Esther's site, and to be posted shortly on CDBaby.
Esther has also worked with, amongst others, David Kershenbaum, (prod., Tracy
Chapman), Paul Buckmaster (arr. Elton John, Bowie), Richard Burgess (keyboard prog.,
Kate Bush), and Marc Tanner (Sean Colvin). She had a song on a Gold (CBS) CD, and
has numerous film and television credits including "The Shield." Her work appeared on
a CD that included Bernie Taupin, Holly Knight, as well as other fine writers. Additionally,
Esther has appeared as a guest vocalist on numerous CD's, including a compilation with
"The Young Dubliners," and also wrote, arranged and vocalized on a group of ambient
CD's/releases, one of which was in heavy rotation on the BBC. She has also
vocalized/composed for several national commercials and accepted an award in
Nashville for her artistry.
Esther Valentine has received over 30,000 hits on her website(s), fan letters from around
the globe, and local as well as international airplay.