Ghost Gallery (Enter if you dare!)
|
home



"Spiritography" © 1999 - Ghost pics

(these pictures were absolutely unaltered!)
See the figurein the background?
Imagine our surprise when this was developed! (Blow up below...)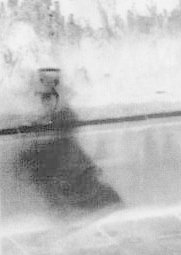 The Cornwall Pixie (or "Small Person?) - July 1999, (right) negative image of ghost
(wild -- she seems to "materialize" in the negative image!)
David and I were in magical Cornwall, where stands the ruins of Pendragon Castle (where Arthur was supposed to have been conceived), and Merlin's Cave. We had just gotten into town, when we stopped at this modest fish & chip type of restaurant. We were so excited to be there (we'd driven over hill and dale to get there, passing through beautiful Devon, Exmoor, etc.), we had the waitress snap our picture. Lo and behold, our "little lady," (looking quite like a Victorian or 18th century figure with a full-ish bustle and bonnet) showed up. Much later on, after we were back in the U.S., we went into a bookstore (actually, in Old Town, San Diego, another enigmatic little town), where I found a book on faeries -- and once again, another surprise. It seems as if Cornwall is one of the more densely populated fairy spots, and that these creatures (they called them "small people") hang out around castles to purportedly protect the treasure. So, maybe we should have followed her, to find that pot of gold. We were just too hungry, and needed those fish and chips! (Note the negative image -- it actually brought out more of her features! Perhaps there is a science to all this after all....)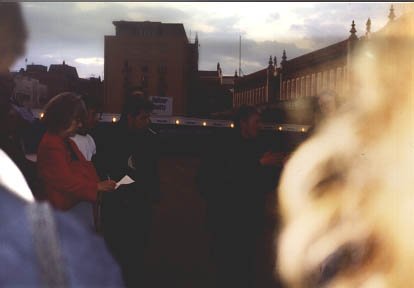 Jack the Ripper, or talkative victim? July 1999
David, my now-husband, had always wanted to go to London, for many reasons...and one of them was to experience the Jack the Ripper tour (we also went on the Sherlock Holmes tour, which was excellent). Twas a bit macabre, but I consented -- it was very interesting, informative, and concluded at the Ten Bells bar, where several of the victims "did business" and hoisted a few. Again, I was just snapping away, and this is what I got. It looks to me like someone who's trying to talk/tell us something. What do you think? Richard Senate, a somewhat well-known ghost hunter, is trying to solve the case "psychically," and might use this photo in the ectoplasmic puzzle -- we'll see, I'll keep you posted!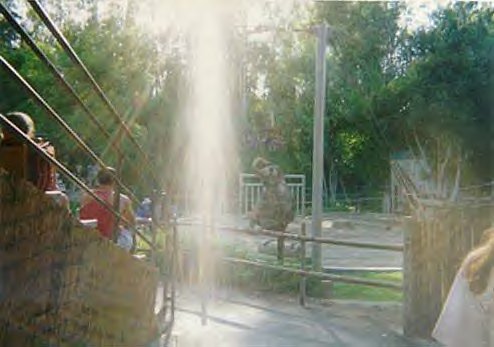 Angel or Heavenly Host? May 1998
This photo was taken the day before Princess Diana passed away. We went to the Wild Animal Park in San Diego, and I was getting ready to snap a picture. This poor elephant couldn't get up, and the trainer was getting concerned. After four tries, he finally rose, the same moment that I snapped the picture. "Ganesh" (that's what I call him -- it's the name of the Hindu elephant God of good luck prosperity -- I just got married on the "Feast of Ganesh!" unbeknownst to me!) looks like he's looking up into the stream of beautiful light you see above.

Look at my cute, little Irish friends (they're probably not so little now). I was hiking with a family in Ireland (near County Shannon, I believe), and we came upon castle ruins. The children and I were having great time, running in and out of the ruins, playing...and this picture was snapped. The white "cloud" you see above their heads only appears right over them -- as if to protect them, envelope them (gently, it seems). They were the most beautiful children, and they had the sweetest, thickest Irish accents -- charmers, they were. I guess they charmed all around!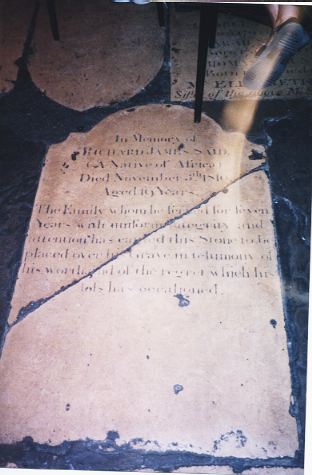 Imagine, having coffee...in a crypt! That's what was done at St. Martin in the Fields! There's a coffee shop, where you actually sit, having coffee, tea, scones above...uh...tombstones. The funny thing is I'd been there several years before, and it never dawned on me...how "cryptic" that was. Well, I guess it would be a gay, happy atmosphere for the living...and the dead. And, obviously, if you look at the picture, there was some good "energy" goin' on.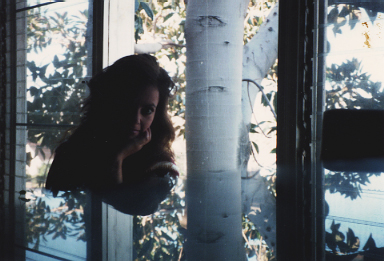 This picture is just an optical illusion...I guess. Some kind of weird exposure had me floating in this picture -- maybe some kind of message to tell us we're more than a body?!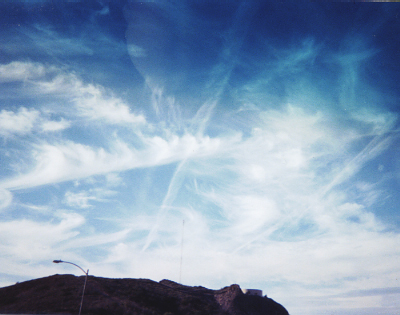 An interesting picture of the sky...it almost looks like there's a face up above....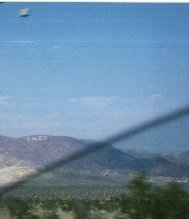 UFO over Calico (Barstow) - Halloween 2002
(white bar is pointer to object above) Enlargement of UFO
Calico is frequent siting area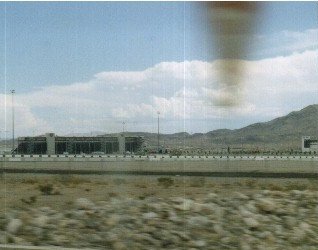 This "spinning top" was snapped
at the Speedway (racetrack) in Las Vegas (not far from Nellis Air Force Base/Area 51)
Sept. 2003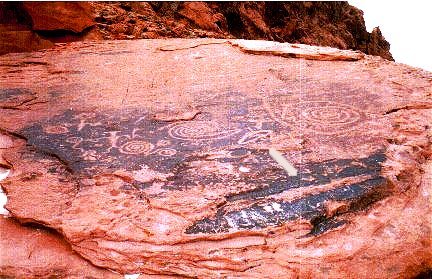 Anasazi Petroglyph
Sept. 2003
Indian Petroglyph ("hyroglyphics") on a rock in the Valley of fire, Nevada
The spirals may indicate arriving and departing*, depending on the
direction of the spiral (the "carvings" tell the story of the people
who came through this area - note the "people" in the left hand corner).
The spirals may also indicate that the area was a place of religious pilgrimage.
One of the carvings looked very much like a spaceship (pointer), and another
looked like an "interesting being." (next to 1st spiral) Ya nevah know....
* "Rock Art Symbols of the Southwest" by Rick Harris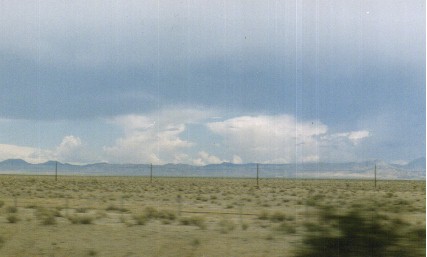 Here's one of my cloud
studies :o) I thought it looked like an alien talking to a pig...lol --but when I cropped it
and blew it up...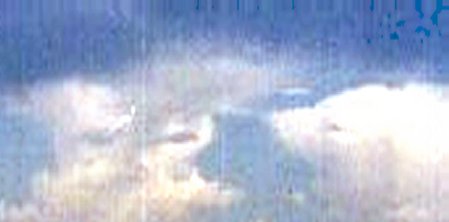 It looks more like an alien talking to a polar bear. "I've looked at clouds
from both sides now..." (poetic license...but, you can also see it there,
can'tcha folks? lol) Do you think they're discussing Plato?
Sept. 2003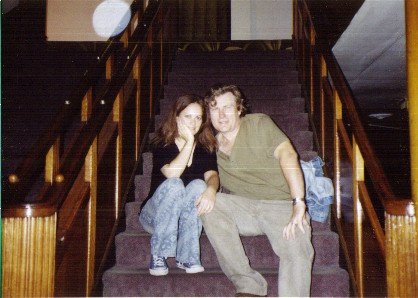 Queen Mary Oct 2004
We took a pre-Halloween trip to witness the Ghost Tour at the
Queen Mary ship in Long Beach. Nothing strange came out on my pictures
in the actual tour (of course), but when we stopped and had this picture
taken after the tour, low and behold, we got quite an "orb," as they're called
(left hand top). David and I both were at this place on the boat several years
ago, and he hesitated to tell me that he "felt something" there, as he is quite
a "practical sort." But later I shared my feelings with him, and we were surprise,
that out of all the places on the ship, we both sensed something there!
At that same time, a ghost tour guide walked by and told us it was the most
haunted place on the ship (the nursery area).
© 1999/2004 All Rights Reserved